DM-40D-BT-W 4" desktop monitor system
DM-40D-BT-W 4" desktop monitor system
The DM-40D-BT-W monitor speakers from Pioneer DJ provide added convenience with Bluetooth connectivity allowing you to easily pair your smartphone, mobile device, PC / Mac to play tracks wirelessly. They deliver balanced, punchy bass sound from their 4 inch woofers with front firing bass ports and pump out extra power thanks to their new Class D amplifier with 96kHz sampling DSP. High frequencies are handled by dedicated tweeters and updated DECO convex diffusers which produce crystal-clear sound in every direction, so you can enjoy a wide sweet spot and 3D stereo sound wherever you are in the room.
2-way sound mode – optimized for DJing and music production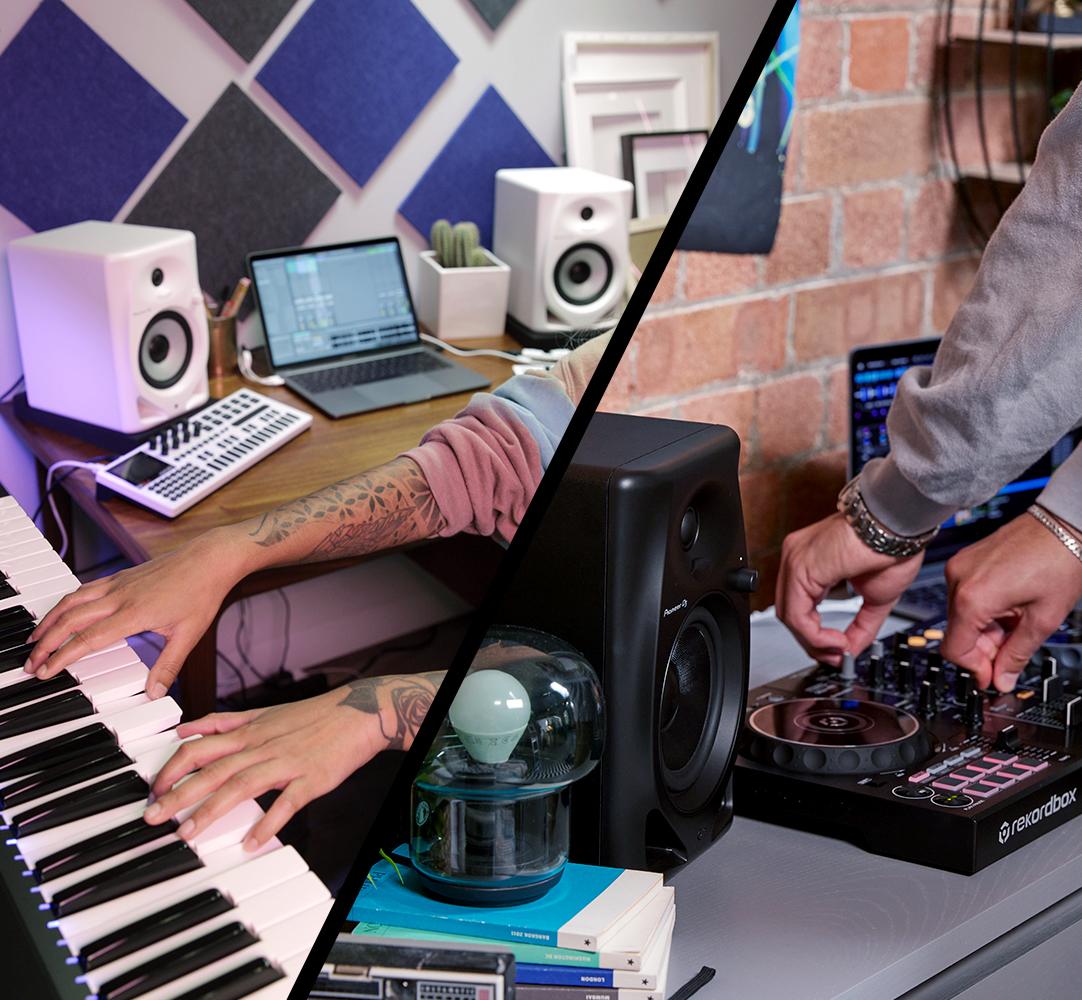 There's no need to decide whether you want a set of monitors that are best for DJing or making music, because the DM series speakers are perfect for both. Just flip the switch to choose either DJ mode or Production mode and the DSP settings will be optimized for the task, leaving you free to concentrate on your mix.
Specifications

Woofer: 4" (102 mm) fiberglass cones 

Amplifier Output: 

Class D with DSP 
Left: 19 W / 4 Ω 
Right: 19 W / 4 Ω 

Input terminal: 

RCA pin jack x 1 
3.5-mm stereo mini jack x 1 

Width: 146 mm 

Height: 227 mm

Depth:Lch: 223 mm / Rch: 212 mm 

Weight: Lch: 2.5 kg / Rch: 2.2 kg

Bluetooth® Specification: Ver. 5.0

Maximum transmission distance: Approximately 10 m in unobstructed circumstances

Frequency used: 2.4 GHz 

Modulation: FH-SS (Frequency Hopping Spread Spectrum) 

Supported Bluetooth profiles: A2DP, AVRCP 

Supported Codec: SBC, AAC