Kontrol S49 & Komplete 13 Ultimate
Kontrol S49 & Komplete 13 Ultimate
Kontrol S49 & Komplete 13 Ultimate
The Komplete Kontrol S49 is built from the ground up to seamlessly integrate with the incredible production suite Komplete 13 Ultimate.
This package includes:
1 x Native Instruments Komplete Kontrol S49 Smart Keyboard Controller
1 x Full upgrade to Komplete 13 Ultimate 
THE LIMITLESS PRODUCTION SUITE
Everything that makes KOMPLETE 13 so fantastic, expanded with the full range of synths, sampled instruments, and effects, plus a colossal orchestral and cinematic toolkit for artists, sound designers, and composers. Including GUITAR RIG 6 PRO, STRADIVARI VIOLIN, MYSTERIA, STRAYLIGHT, PHARLIGHT, and much more.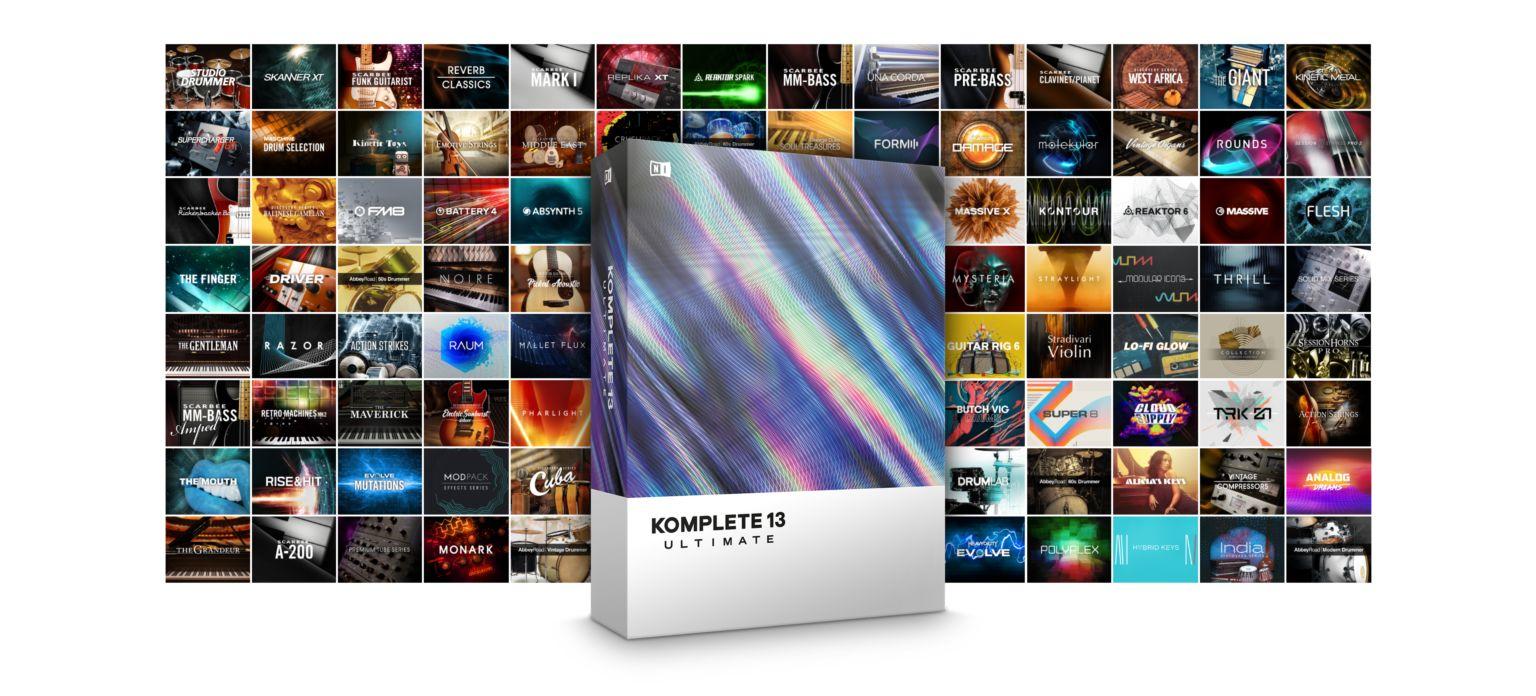 KOMPLETE 13 ULTIMATE includes 118 instruments and effects, plus 39 Expansions. Explore the highlights below.
Komplete Kontrol S49

MADE TO BE PLAYED

With the latest generation of KOMPLETE KONTROL, music-making becomes a more intuitive, hands-on experience. Perform expressively, browse and preview sounds, tweak parameters, sketch your ideas, then navigate and mix your project – all from one fully integrated centerpiece for studio and stage.

MORE VISUAL

Two high-res color screens make it easy to browse and preview sounds, tweak controls, and mix and edit your projects – right from the hardware.

MORE INTUITIVE

Get hands-on with your production process, thanks to an improved layout with more dedicated function buttons and a new four-directional push encoder.

MORE EXPRESSIVE

KOMPLETE KONTROL S49 and S61 now sport ergonomic pitch and mod wheels, plus a touch strip for expanded creative possibilities.

MORE INTEGRATION

Mix, edit, and more in MASCHINE, Logic, Ableton Live, Cubase, Nuendo, and GarageBand.

FIND YOUR SOUNDS FASTER

Finding the right sound amongst a sprawling sound library can be difficult, not to mention time consuming. Now you can find exactly what you're looking for across all KOMPLETE and Native Kontrol Standard (NKS) instruments using a simple, intuitive tagging system – directly from the hardware. What's more, you can hear an instant preview of each instrument preset as you browse.

Need a hip hop kit? Select Drums > Urban Drum Kit > Sample-based, scroll through the presets and pick the right one for your track. If you really like what you hear, just tag it as a Favorite for instant access next time.

PRE-MAPPED AND READY TO PLAY

All of your KOMPLETE and NKS instruments and effects are pre-mapped to the KOMPLETE KONTROL hardware by the people who know them best – the instrument designers themselves. Essential parameters like envelope controls and filter cutoffs load instantly and are displayed across the two color displays, intuitively divided into pages. That means you can see exactly what you're adjusting in real time – whether it's in kHz, dB, or BPM.

Komplete 13 Ultimate Highlights

21 ORCHESTRAL AND CINEMATIC INSTRUMENTS

KOMPLETE 13 ULTIMATE expands KOMPLETE 13 with far-reaching, versatile cinematic and orchestral instruments for producing screen-ready scores for films, TV, and games, as well as your own tracks. There are the the iconic sounds of STRADIVARI VIOLIN and contemporary SYMPHONY ESSENTIALS, the arcane, cinematic choral textures of MYSTERIA, spine-chilling sounds of THRILL, and granular soundscapes of STRAYLIGHT and PHARLIGHT, plus many more.

PLATFORMS FOR SAMPLING AND SYNTHESIS

Builder platforms can be used to create just about any instrument you can imagine. KONTAKT 6 powers advanced sampling and instruments from Native and hundreds of leading manufacturers. REAKTOR 6 takes care of the synthesis side of things, with a flexible modular environment for building synths, effects, and more.

If you don't want to dive in too deep, both platforms include comprehensive libraries full of sampled instruments and synthesizers for making music straight away.

17 SYNTHESIZERS

From iconic analog recreations to unashamedly digital, cutting-edge designs, KOMPLETE 13 ULTIMATE includes a collection of synths capable of producing almost any sound you can think of. Discover vintage polysynth warmth with SUPER 8, the pristine sound of additive synthesis with RAZOR, new organic sample-based textures with FORM, or explore uncharted sonic possibilities with flagship wavetable synth MASSIVE X.

39 SAMPLED INSTRUMENTS

Discover a comprehensive library of multi-sampled instruments spanning centuries, genres, continents, and styles. There are seven pianos, including the deeper-than-deep NOIRE and bespoke UNA CORDA, vintage synthesizers, authentic traditional sounds from CUBA, MIDDLE EAST, WEST AFRICA, INDIA, and BALINESE GAMELAN, the contemporary SESSION GUITARIST series, the immensely fun Play Series, and much more to dive into.

12 PERCUSSION TOOLS

From warm vintage acoustic kits to cold-blooded electronica, KOMPLETE 13 ULTIMATE packs enough sampled and synthesized percussion to keep any production on-beat. The ABBEY ROAD series covers 70 years of acoustic drum studio sounds, TRK-01 keeps the techno low-end rolling, POLYPLEX takes a more experimental approach to drum programming, and BATTERY 4 helps you sequence both humanized swing and borderline-impossible rhythms in a heartbeat.

26 EFFECTS

KOMPLETE 13's effects suite includes everything you need for finishing, sculpting, and transforming sound. Brand-new GUITAR RIG 6 PRO brings new amp modelling, effects, and routing possibilities to much more than just guitar sounds. MOLEKULAR is a modular system for doing anything you like with audio. SOLID MIX SERIES, PREMIUM TUBE SERIES, and VINTAGE COMPRESSORS add renowned studio polish to the mix, while SUPERCHARGER GT and REPLIKA XT cover white-hot tube compression and deep delays, and RAUM elevates reverb to an artform in and of itself.

39 EXPANSIONS

Expansions are genre-specific sound packs full of samples, loops, one-shots, and more, and KOMPLETE 13 ULTIMATE packs 39 of them, so you'll always have the right sounds when you need them. MASSIVE X Expansions contain 150 presets each for our flagship synth, designed by pro designers who have mined its complex architecture for undiscovered audio gold.