DDJ-REV5 & DJC-REV5 Package
DDJ-REV5 & DJC-REV5 Package
CURRENTLY SHIPPING WITH A UDG CREATOR BAG DUE TO STOCK AVAILABILITY.
We know that when you get your hands on the DDJ-REV5 you'll want to take it out to your next gig. That's why we're offering it in this package with the DJC-REV5 transport bag specifically designed for this performance controller.
The DDJ-REV5 has been developed for open format DJ's bringing a unique set of performance controls and features. This new-generation 2-channel controller offers an authentic scratch experience with its large jogs and MAGVEL FADER perfect for accurate cutting.
The large jog wheels are responsive, reliable, and easy to operate – with a feel just like those on classic CDJ units – and they each include a display with playhead position so you'll always know where you are in the track. You can also customize the Jog Feel to find your perfect jog wheel "weight". The MAGVEL FADER is slick, robust, and ready to translate every tiny movement you make so you can scratch with precision.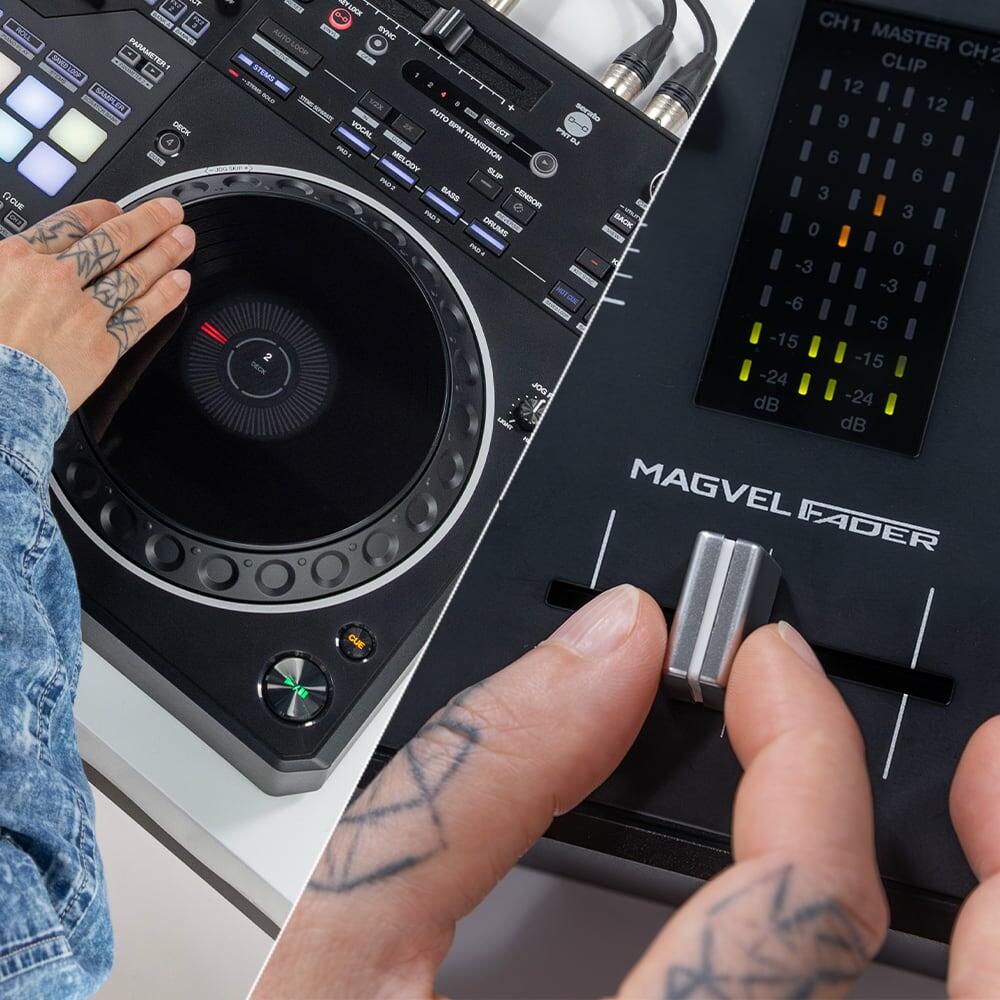 The long tempo sliders on the DDJ-REV5 run horizontally above the deck sections while the Performance Pads and Lever FX are placed in the mixer section for dynamic performances, emulating the PLX Series deck + DJM-S Series mixer setups loved by open-format DJs around the world. Thanks to the proximity of the pads, levers, and faders, you can fuse scratching with pad play and effects.
Performance Features

Dedicated buttons for easy Stems control

Easily make live mashups and remixes using the Stems buttons on the DDJ-REV5. Your tracks will be split into Stems within the software – vocals, melody, bass, and drums in Serato DJ Pro, or vocal, drums, and inst (other instruments including bass and synths) in rekordbox – which you can play separately.

Stems Mute/Solo Solo or mute the different Stems to create your own mashups on the fly.
Stems Separate Isolate different Stems of a track on separate decks to make live remixes.
Stems Level Use the EQ knobs to adjust the volume for separate Stems.




You can use the different Stems in combination with Deck Move, so it's easy to make and control multiple live mashups and remixes at once.




New Auto BPM Transition for smooth mixing

Mixing between musical genres with vastly different tempos is easy with the new Auto BPM Transition. Choose a number of bars for the transition and, when you press the button, the playing track will gradually change tempo to match the one loaded to the other deck so you can seamlessly mix or drop in the new track. You can also set Stems, Auto Loop, and Key Lock control to be applied during the transition.




New Piano Play mode for intuitive musical performances

Just like Pitch Play, you can use the 16 Performance Pads to trigger a cue point in different semitones. But, with the new Piano Play mode, pitch changes are arranged so the pads form a piano keyboard, with the "white" keys on the bottom row and the "black" ones at the top. Choose from 3 scales and, even if you have no knowledge of musical theory or scales, you'll find it easy to play a tune.